Hurricane Florence
For the most up to date information about relief efforts throughout the state please click here to visit NC REALTORS® website.
*Updated 9-19-18*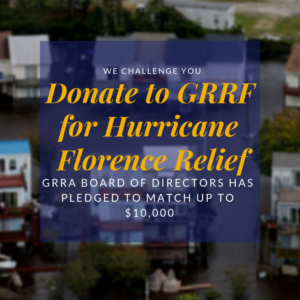 DONATION MATCH!
Help us support our REALTOR® friends in the areas affected by the recent floods and devastation from #HurricaneFlorence
GRRA Board of Directors has pledged to match both company and individual donations to the Greensboro Regional REALTORS Foundation for Hurricane Florence Relief up to $10,000!!!!!!
You can donate by bringing/mailing a check or cash to the GRRA Office (23 Oak Branch Drive, Greensboro) or by visiting the Foundation website and clicking the "Donate" button: http://realtorshelpinggreensboro.org/
*Please note when making your donation that it is for Hurricane Florence Relief*
SUPPLIES NEEDED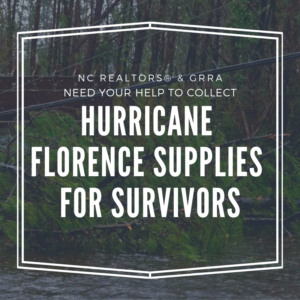 We will be collecting supplies at our office for those impacted by #HurricaneFlorence
NC Realtors will be delivering supplies to areas affected by the Hurricane, and have graciously offered to stop by our office to collect donations from our members!
Any questions please message us here or email Brittany Lance (blance@grra.org)
For a full list of items needed please visit NC REALTORS® website  (this page is updated regularly by NC REALTORS® Staff as needs and situations change)
VOLUNTEER SIGN UP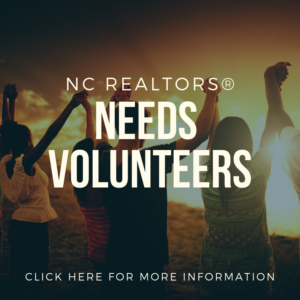 Calls For Action
The National Flood Insurance Program (NFIP) will expire on July 31, denying necessary insurance coverage to homeowners and buyers in more than 20,000 communities nationwide. Congress must act now to reform and extend the NFIP.
Urge Congress to extend the NFIP and pass meaningful reforms to ensure long-term viability of the program
NAR Supports:
Reauthorizing and gradually strengthening the NFIP so it is sustainable over the long run;
Encouraging the development of private market options to offer comparable flood insurance coverage at lower cost than NFIP;
Providing federal assistance to high-risk property owners, including guaranteed loans, grants and buyouts in order to build to higher standards and keep insurance rates affordable;
Provide fair flood insurance rates that better reflect the property's flood risk;
Improving flood map accuracy, so fewer property owners have to file expensive appeals.
Tell Congress to EXTEND NFIP and PASS Flood Insurance Reform
---
Previous CFAs
 Call for Action: Performance Guarantee/Subdivision Streets
Call for Action: Hurricane Matthew Relief
Call for Action: Tell the US Senate to Work For Future Homebuyers
Call for Action: Urge Passage of the Homeowner Flood Insurance Affordability Act
Call for Action: Flood Insurance Issues Could Sink Your Sales
When Congress is considering legislation that affects the real estate industry, NAR calls on its members to act. Simply by contacting your Member of Congress through an e-mail or a phone call, you can ensure that your business remains strong. NAR members join together and speak with one loud, powerful voice.
GRRA Notices
12/11/2018 7:24 AM Update: Due to continued inclement weather in Guilford County, GRRA will open at 10 AM today, December 11th.
The Ethics CE Class has been cancelled originally scheduled for today has been rescheduled for December 28th from 9 AM - 1 PM. 
Please continue to check out website and social media for more updates!
---
12/9/2018 6:20 PM Update: Due to State of Emergency in Guilford County due to inclement weather, the GRRA office will be closed on Monday, December 10.  Please check back for any additional updates as we know them!
---
1/19/2018 7:30 AM Update: Due to icy roadway conditions, the GRRA office will open at 9:30 AM.  Please check back for any additional updates as we know them!
---

1/18/2018 9:30 AM Update: Due to slick roadway conditions, the GRRA office is now closed today.
1/18/2018 8:00 AM Update: GRRA Office will open on a delay at 10:30 AM.  Please check back for any additional updates as we know them!
---

1/17/2018 9:30 AM Update: The RCRC Luncheon scheduled for tomorrow, January 18 has been cancelled.   A reschedule has yet to be announced.
1/17/2018 8:20 AM Update: The CE Day with Mark Saunders Originally scheduled for Thursday January 18th has been postponed until February 14, 2018
1/17/2018 8:00 AM Update: GRRA Office will be closed today due to Inclement Weather.  Please check back for updates as we know them!
Triad MLS Member Benefit Partners
Below are a list of Triad MLS Member Benefit Partners:
Savvy Card®
SavvyCard® for Real Estate is an online lead development platform that automates Real Estate marketing and gets you leads - and we will be providing it to all our member agents, AT NO ADDITIONAL COST!
In Person Trainings on June 26, 2018 - Click to Register Your Attendance
9:30 - 10:30 AM at GRRA
11:00 AM - 12:00 PM at GRRA
2:00 - 3:00 PM at GRRA
ePropertyWatch™
We're excited to tell you about a new addition to Matrix™ called ePropertyWatch™ that we're making available to you.  Best of all, the single agent package is FREE to use. If you're frustrated by clients who forget your name, or find a new agent on a national real estate portal, then we think you'll love ePropertyWatch.
Login to the TRIAD MLS Matrix system and go to ePropertyWatch widget on the Home Page. Simply click on the widget to get started.
Real Safe Agent
We are excited to announce that in order to keep you and your colleagues safe, we are deploying the Real Safe Agent System. Real Safe Agent is not a personal safety app, it's a crime prevention system for the real estate industry that allows the entire real estate community to collaborate and cooperate to keep each other safe. Real Safe Agent will be available to download Monday, April 2nd! Click here for a video explaining the features of the Real Safe Agent system. We will also be offering training sessions for Real Safe Agent. To see a full list of available sessions click here.