---
Start: March 21, 2019 1:00 pm
End: March 21, 2019 6:00 pm
---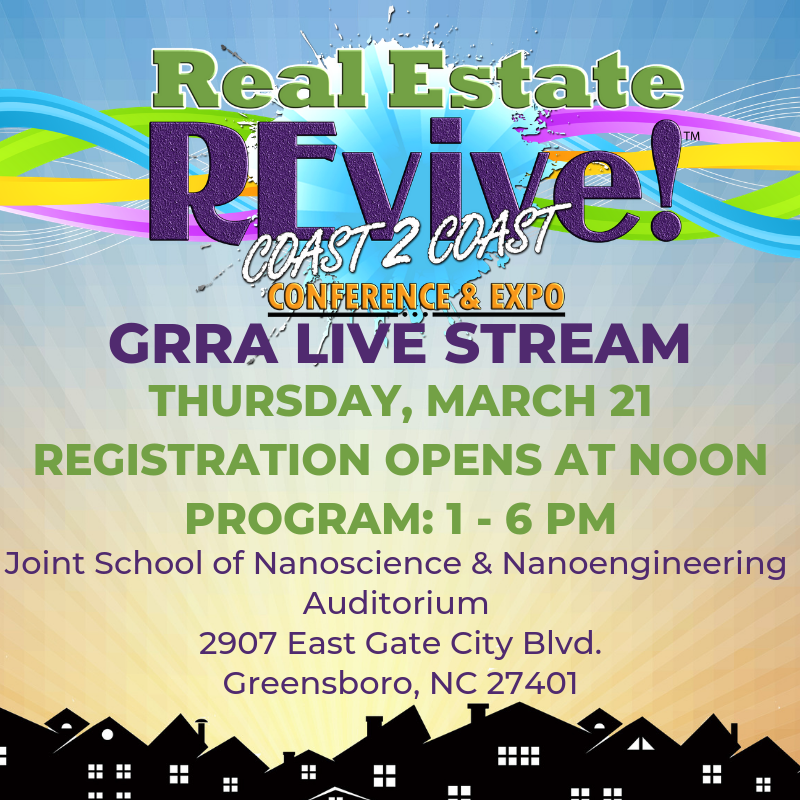 2019 Real Estate REvive!
Live Streaming Coast 2 Coast
Thursday, Mar. 21
Registration opens at noon.
Program: 1 - 6 pm
Joint School of Nanoscience & Nanoengineering Auditorium
2907 East Gate City Blvd.
Greensboro, NC 27401
GRRA is excited to announce that we will be live streaming the nationally recognized Real Estate Revive Conference! The conference will take place in Rancho Cucamonga, California and will be live streamed by associations across the country, including GRRA! We will be streaming the event in the auditorium at the Joint School of Nanoscience & Nanoengineering in Greensboro.
The current speaker lineup includes:
Leigh Brown, Our Host! will be presenting her own session: "Do you want to be your clients' Realtor For Life? It's going to take some different thinking and messaging in a changing world-and you will leave this session knowing what to do next!"
Jessica Lautz, VP of Demographics & Behavioral Insights at NAR will present a deep dive into housing market data, including specifics for our region.
Nobu Hata, NAR Director of Member Engagement, will discuss technology in real estate and how it's changing the way real estate is bought and sold.
Jeff Turner, CSO at Immoviewer; N.A.R. Entrepreneur-in-residence will discuss "Real Estate Technology, What's Real, What's Hype," with N.A.R.'s Nobu Hata.
Jessie Rodriguez from HGTV's Vintage Flip is eager to share information about "riches in niches" with the REvive 2019 audience.
Sharran Srivatsaa, CEO of Kingston Lane and founder of The 5 am Club
Dan Smith, Author-Influencer/Former Top Agent will discuss with disruption should inspire innovation.
For more information see https://realestaterevive.com
Thank you to our sponsors: